Tennis Gifts
The perfect tennis gifts for any tennis player is now available for only £14.95 at www.tennisballdryer.com
Make a tennis player you know happy this Christmas with a Tennis Ball Dyrer. The 4 in 1 gadget everyone can use.
Aspect Sports sponsors Tennis Circus with prize donations

Tennis Ball Dryer
has been officially granted a Patent for its innovitive drying technology.
GB.2452725
Tennis Ball Dryer
Awarded
'Best Tennis Gadget of the Year'
by ACE Tenns Magazine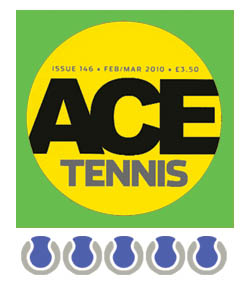 Aspect Sports donated Tennis Ball Dryers
for charity, at the Cystic Fibrosis charity
tennis exhibition, organised and hosted by
Grayshott Spa in Surrey.
Danny Sapsford, head coach at Grayshott Spa, hosted the charity event with Jerermy Bates, Lee Childs and James Auckland in aid of the Cystic Fibrosis Trust at Grayshott Spa. Continue reading →
Aspect Sports sponsors the
with prize donations